May 1 "Written Music: Its Development and Public Presentation" - Warren Cohen, Artistic Director of New Jersey Intergenerational Orchestra (NJIO), will discuss the influence of performance venues in the dvelopment of classical instruments.

May 8 "Impact of Untreated Hearing Loss and What to Do about It" - Founder of Summit Hearing Aid Center, Leslie E. Herman, Doctor of Audiology, will present new studies on how untreated hearing loss impacts our physical and mental well being.

May 15 "Importance of Civility in Today's Divisive Political Environment" - Jon Bramnick, Assemblyman in the NJ General Assembly since 2003, who has served as Assembly Republican Leader since 2012, will discuss the topic with specific do's and dont's in the world of politics.

May 22 "Surrogate Court Union County" - James LaCorte has been Surrogate of Union County since 2000.  He will explain a full range of topics related to probate matters as well as the duties of an executor.

May 29 "The History of Barbershop Singing and the Morris Music Men" - Nate Barrett, Terry Scullin and, Dave Sipple a cappella repertoire includes America's most popular music from standards to Broadway to doo-wop to gospel to rock.

                     June Birthdays - John Baxter

June 5 "The Italian Unification - Dreamers, Schemers, and Rusty Rifles" - Jerry DeFrancisco, former AT&T and Red Cross executive,will describe how Italy was able to unify as a single state in the late 19th century.

June 12 "The Secret to a Long, Happy Life" - Dick Martin, retired AT&T executive vice president and author, will lead an interactive workshop, challenging us to address real-life dilemmas, reveling the underlying beliefs and mental processes that shape our perceptions and behavior.

June 19 "Mamagement of Cardiac Arrhythmias" - Arrhythmias can occur in nearly everyone and become more common as we age, producing a broad range of symptoms from barely perceptible to cardiovascular collapse. Dr. Robert Altman, a cardiologist at Summit Medical Group, will review the symptoms, the types of arrhythmia that need treatment, and treatment options.

June 26 "The US, China, and Korea: War or Peace?"- In volatile North Asia there are two Koreas, one rich and the other poor. Now the poor Korea, backed by China, has the ultimate weapon to destroy the rich one, supportrd by the US. The situation is inherently unsustainable. Author and commentator, Gordon Chang, will talk about the possible futures for the Korean peninsula. 

                      July Birthdays - John Baxter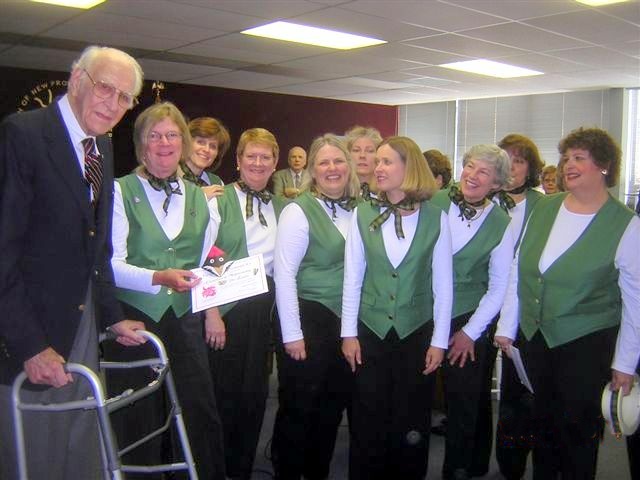 Technology User Group (TUG)  Discussions for all users at all levels in the front of our meeting room, 11:45 a.m. (First and fourth Tuesdays of the month).

May 1 - Monthly issues session..

May 22 - TBD.

Timely Topics  Discussion in the front of our meeting room with participation encouraged from all in attendance. Usually at 11:45 a.m. on the second Tuesday.

May 15 - We will have a discussion on how we as individuals and as a group can be more effective by practicing civility in today's critical issues, such as ensuring a clean environment or reducing gun violence. Pete Lederman will lead the discussion. PLEASE NOTE the CHANGE to the THIRD TUESDAY

Subject matter may change should overarching issues arise.

Trips Scheduled (For Old Guard members and guests)

Walkers The Walkers Group has been relaunched in a new format (which is still evolving).  For now we are walking twice a week, Mondays and Thursdays, at 8:00 AM at Briant Park in Summit, with "mall walking" at the Short Hills Mall as a backup for bad weather.  If Interested, please drop a note to paul.tukey@gmail.com to weigh in and say what formulation might work well for you.

Come for the Programs. Stay for the Friends.