Aug. 1 "Learn Techniques That Will Help You Cope With Stress and Anxiety." - Speaker Valerie Spangenberg, Ph.D. is a resident of Latern Hill, was trained at Harvard, and worked at Morristown Memorial Hospital in Integrative Medicine.

Aug. 8 "General Overview of Foot and Ankle Health," - Dr. Adam Kaplan, member of the American Podiatric Medical Association, will speak about treatment of the most common foot ailments and when to seek professional help.

Aug. 15 "New Jersey Symphony Orchestra -- Special Series for Seniors," - Terri Campbell, NJ Symphony Orchestra Sales Consultant will inform the Old Guard about the 2017/2018 five concert afternoon series specifically for seniors.

Aug. 22 "To Tell or Not to Tell is Not the Question." - Michelle Papka, Ph.D. of the Cognitive and Research Center of NJ, LLC, will speak to us about current thinking regarding Alzheimer's disease..

Aug. 29 "Everything That You Wanted to Know About Sunscreen, But Were Afraid to Ask." - Speaker David C. Steinberg founded his consulting firm in 1995 and has wide experience on the chemistry of cosmetics.





September Birthdays – John Baxter

Sept. 5 "The University of the Future" - Joseph Tranquillo, Associate Professor of Biomedical Engineering at Bucknell University, will discuss the challenges facing universities in the digital age with increasing costs and how they may evolve in the future.

Sept. 12 "The Criminalization of Politics from Nixon to Today" - Geoff Shepard, former White House Fellow and member of President Nixon's White House staff, will compare his experience with what is happening today. He will reveal some surprising facts about judicial and prosecutorial abuses that occured during the Watergate trials.

Sept. 19 "An Increasingly Warming World" - Old Guard Member, Phil Eisner, will present implications of humankind in an increasingly warming world and the scarcity of the earth's resources.

Sept 26 "Newark through the Ages" - Liz Del Tufo, President of The Newark Preservation and Landmark Committee, will speak on using existing buildings and monuments in Newark to describe the city's unique history from its beginnings in the 1600's to today. This talk was developed in celebration of Newark's 350th anniversary last year.



October Birthdays – John Baxter
,.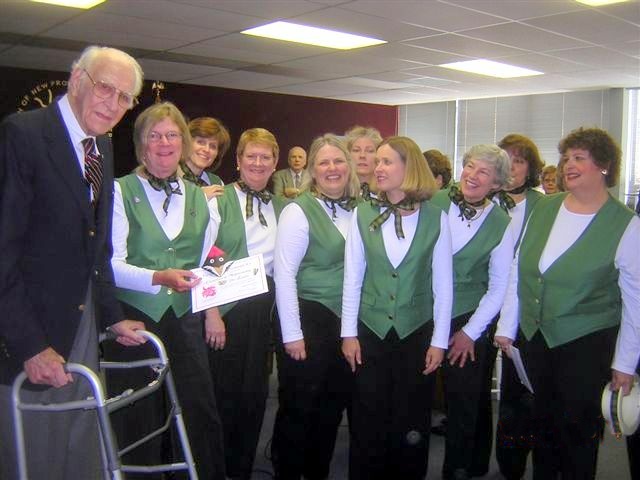 Technology User Group (TUG)  Discussions for all users at all levels in the Council Chamber, 11:45 a.m. (First and fourth Tuesdays).

August 1 - Video and discussion of "Tracking Digital Spies in 'Black Code'"

August 22 - Current issues for group discussion.

Timely Topics  Discussion in the Council Chamber with participation encouraged from all in attendance. Usually at 11:45 a.m. on the second Tuesday.

August 8  Pete Lederman will lead a discussion on: How do we help ensure that there are plenty of jobs for those who want them and people properly suited to fill them.

Trips Scheduled (Old Guard Members and Their Guests Only)

Sept. 14 - Tour of Grey Towers & Grounds in Milford, PA.

For details open the Events/Trips page or click below.

Walkers If weather is "iffy", call Doug Garno, (908) 464-2139, (908) 917-3837 (cell); or Ellwood Jacoby, (908) 654-7116; (908) 692-1481 (cell). Interested members with or without spouse/friend meet at 10:30 a.m. Walks are about one hour. Lunch is optional.

Come for the Programs. Stay for the Friends.