Nov 6 (Mon.) "Sports Trivia with a Personal Touch" – Joseph Gyenes, 43 year member of the International Association of Approved Basketball Officials, will tell stories about sports and sports personalities he has encountered while officiating.

Nov. 14 "Formation of Character and Moral Education: Intuitionists vs. Utilitarians in Early 19th Century Britain" -- James S. Hewitt, PhD History, U Mass/Amherst and Old Guard Member will speak on this topic that still frames the debate today.

Nov. 21 "Deserted Village of Feltville in the Watchung Reservation -- It's Not so Deserted Anymore!" – Daniel Bernier, Director of Environmental Services for the Union County Park System and resident caretaker will discuss the four century history of the Deserted Village as well as the Visitors Center and programs.

Nov. 28 "Cold War Missile Defense" -- Jospeh M. Polyak, retired computer engineer, will talk about his exeriences while he worked on the Ballistic Missile Early Warning System radar site at Thule Airbase in Greenland.

                  December Birthdays – John Baxter

Dec. 5 "Remembering Pearl Harbor" - Herb Waddell, speaker and Old Guard member. Many Old Guardsmen are too young to remember "The day that will live in infamy." As we observe the 76th anniversary of Pearl Harbor, we will be interested in hearing about those times before the attack, the events that led up to it, the shock of the news, and the wartime years from the perspective of one of our own members.

Dec. 12 "Downsizing Your Home: - A Practical Guide" - Lucy Thompson will tell us considerations to keep in mind when thinking of downsizing your home and will give us an orientation in approaching such a momentous decision. When is the right time? What is the first step? These questions and others will be addressed as we go through the process of getting ready.

Dec 19 "General Winfield Scott Hancock" - Nolan Asch, speaker and Old Guard member. The most important Union Civil War general you may never have heard of may surprise you. Come and hear Nolan Asch give us a historical view into the life of a Civil War general who almost became president. Trace his steps through West Point and the Mexican American and Civil Wars. Then follow him to the Wild West and ONE INCH from the White House.

                  January Birthdays - John Baxter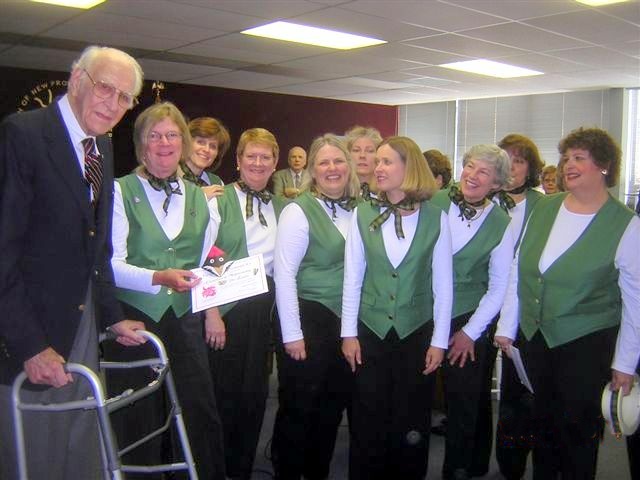 Technology User Group (TUG)  Discussions for all users at all levels in the Council Chamber, 11:45 a.m. (First and fourth Tuesdays).

November 6 - Current issues for group discussion.

November 28 - Favorite Smart Phone and / or Tablet Apps.

Timely Topics  Discussion in the Council Chamber with participation encouraged from all in attendance. Usually at 11:45 a.m. on the second Tuesday.

November 14 - Opioids are among the crises we face as a nation. Are they a crisis within our community? What should or can we do about it as a community or individually at the local, state, or national level. Peter Lederman will lead this timely discussion.

Trips Scheduled (Old Guard Members and Their Guests Only)

A trip to the NY Botanical Gardens in December to see the Garden's special holiday train show depicting buildings in Midtown Manhattan.  Details to follow.

Walkers If weather is "iffy", call Doug Garno, (908) 464-2139, (908) 917-3837 (cell). Interested members with or without spouse/friend meet at 10:30 a.m. Walks are about one hour. Lunch is optional.

Come for the Programs. Stay for the Friends.