April 3 "Interesting Trips in the USA from One Who Has Been There" - Phil Azzolino, President of Group Tours and Travel in Kinnelon, NJ, will discuss some of the most interesting places in the USA.

April 10 "History of the Last Working Farm in Berkeley Heights" - Ron Weinger, a recent Old Guard member, will speak about the Littell Lord Farm. Ron is a 23 year resident of Berkeley Heights and a member of its historical society.

April 17 "Charles Lindbergh - A Complicated Man and Aviation Pioneer" - Professor David Smilon, of Bergen Community College, will discuss this American icon. Lindbergh is an enigmatic character who had heavy influence on aviation. Dave will take us through Lindbergh's fascinating career.

April 24 "Sound Ideas on Money Management" - Karin Price Mueller is a NJ based writer who specializes in personal finance and consumer issues. Karin founded NJ Moneyline which offers its online audience objective and free money advice. Bring your financial questions. She will attempt to answer them.




May Birthdays - John Baxter
May 1 "Written Music: Its Development and Public Presentation" - Warren Cohen, Artistic Director of New Jersey Intergenerational Orchestra (NJIO), will discuss the influence of performance venues in the dvelopment of classical instruments.

May 8 "Impact of Untreated Hearing Loss and What to Do about It" - Founder of Summit Hearing Aid Center, Leslie E. Herman, Doctor of Audiology, will present new studies on how untreated hearing loss impacts our physical and mental well being.

May 15 "Importance of Civility in Today's Divisive Political Environment" - John Bramnick, Assemblyman in the NJ General Assembly since 2003, who has served as Assembly Republican Leader since 2012, will discuss the topic with specific do's and dont's in the world of politics.

May 22 "Surrogate Court Union County" - James LaCorte has been Surrogate of Union County since 2000.  He will explain a full range of topics related to probate matters as well as the duties of an executor.

May 29 "The History of Barbershop Singing and the Morris Music Men" - Nate Barrett, Terry Scullin and, Dave Sipple a cappella repertoire includes America's most popular music from standards to Broadway to doo-wop to gospel to rock.




June Birthdays - John Baxter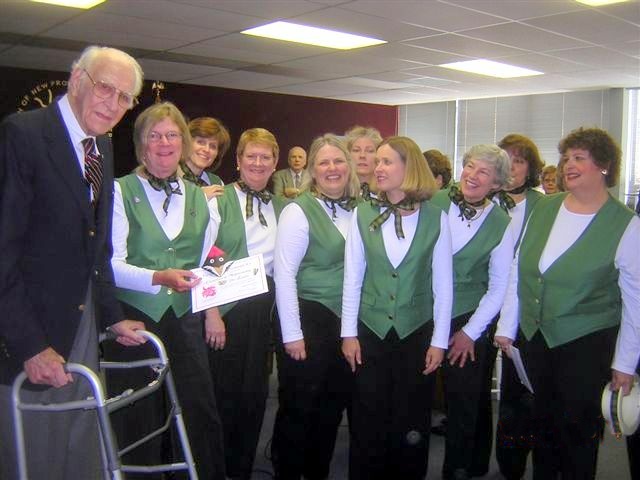 Technology User Group (TUG)  Discussions for all users at all levels in the front of our meeting room, 11:45 a.m. (First and fourth Tuesdays of the month).

April 3 - Monthly issues session..

April 24 - Thad Gabara will demonstrate his Raspberry Pi 2 computer that can fit in the palm of your hand.

Timely Topics  Discussion in the front of our meeting room with participation encouraged from all in attendance. Usually at 11:45 a.m. on the second Tuesday.

April 10 - Technology has had and continues to have a significant impact on our lives and habits.  This is particularly true of our mobile phones and social media.  Pete Lederman will lead a discussion on how we feel about these impacts and what we can do to manage them.

Subject matter may change should overarching issues arise.

Trips Scheduled (Old Guard Members and Their Guests Only)

Walkers The Walkers Group has been relaunched in a new format (which is still evolving).  For now we are walking twice a week, Mondays and Thursdays, at 8:00 AM at Briant Park in Summit, with "mall walking" at the Short Hills Mall as a backup for bad weather.  If Interested, please drop a note to paul.tukey@gmail.com to weigh in and say what formulation might work well for you.

Come for the Programs. Stay for the Friends.