Oct. 3 "Trends in Power Generation and Distribution" – Thomas G. Loughlin, Executive Director of the American Society of Mechanical Engineers (ASME), will address how power generation and energy distribution are going through radical changes.

Oct. 9 (Monday) 'Ladies Day' – Grand Summit Hotel, Summit.   For details open the Events/Trips page or click Ladies Day Detail; for 2017 photos go to or click Photo Gallery

Oct. 17 "The Seeing Eye" – Don MacGowan and Kathy Murray (and Seeing Eye dog, Mac), volunteers at the Seeing Eye, will explain the work of the Seeing Eye from several perspectives: ways blindness manifests itself, how the Seeing Eye breeds, raises, and trains dogs, how people and dogs are matched together, and life as a blind person.

Oct. 24 "North Sea to Irish Sea:  Britain's 'C to C' Hike in Reverse" – Václav (Vic) Beneš, PhD., formerly of Bell Laboratories, and a companion walked about 200 miles across North Yorkshire and Cumbria from east to west carrying all they needed in small packs.

Oct. 31 "Your Digital Legacy -- Digital Estate Planning" – Steve Erikson, CFP, President Emeritus of Hallmark Capital Management, will discuss the 21st century issue of including people's digital lives in estate planning.



November Birthdays – John Baxter
Nov 6 (Mon.) "Sports Trivia with a Personal Touch" – Joseph Gyenes, 43 year member of the International Association of Approved Basketball Officials, will tell stories about sports and sports personalities he has encountered while officiating.

Nov. 14 "Formation of Character and Moral Education: Intuitionists vs. Utilitarians in Early 19th Century Britain" -- James S. Hewitt, PhD History, U Mass/Amherst and Old Guard Member will speak on this topic that still frames the debate today.

Nov. 21 "Deserted Village of Feltville in the Watchung Reservation -- It's Not so Deserted Anymore!" – Daniel Bernier, Director of Environmental Services for the Union County Park System and resident caretaker will discuss the four century history of the Deserted Village as well as the Visitors Center and programs.

Nov. 28 "Cold War Missile Defense" -- Jospeh M. Polyak, retired computer engineer, will talk about his exeriences while he worked on the Ballistic Missile Early Warning System radar site at Thule Airbase in Greenland.



December Birthdays – John Baxter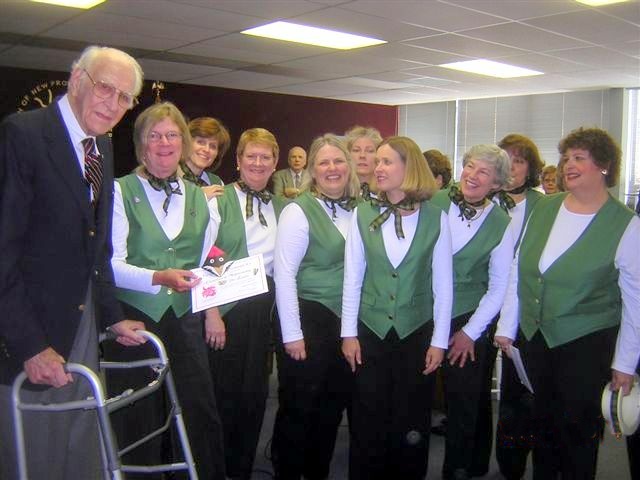 Technology User Group (TUG)  Discussions for all users at all levels in the Council Chamber, 11:45 a.m. (First and fourth Tuesdays).

October 3 - The massive Equifax data hack and what we can and have done about it as individuals -- a discussion.

Octobert 24 - Current issues for group discussion.

Timely Topics  Discussion in the Council Chamber with participation encouraged from all in attendance. Usually at 11:45 a.m. on the second Tuesday.  Because of Ladies day this will occur on:

October 17 Nolan Asch will lead a discussion on: The balance of powers between the three branches of government. Should any changes be made?

Trips Scheduled (Old Guard Members and Their Guests Only)

A trip to the NY Botanical Gardens in December to see the Garden's special holiday train show depicting buildings in Midtown Manhattan.  Details to follow.

Walkers If weather is "iffy", call Doug Garno, (908) 464-2139, (908) 917-3837 (cell); or Ellwood Jacoby, (908) 692-1481 (cell). Interested members with or without spouse/friend meet at 10:30 a.m. Walks are about one hour. Lunch is optional.

Ladies Day
  – October 9 (Monday) Grand Summit Hotel, Summit. For details open the Events/Trips page or click
Details of Ladies Day
Come for the Programs. Stay for the Friends.