July 11 "Free People, Free Press: How the Wall Street Journal Opinion Page Shaped America," - Speaker George Melloan, who retired after a 54-year career of writing and editing at the  Wall Street Journal, will draw from his book of the same name which will be published by Simon and Schuster the day of his talk.  The winner of many awards for excellence in business and financial journalism, Mr. Melloan will describe how the seven Editors-in-Chief of the Journal, five of whom he knew, led the Journal to become a major force in America.

July 18 "History of the Singer Manufacturing Company," - David Rogers, a former vice president of Singer, will discuss the history of sewing, sewing machines, and inside information from his 25 years with the company, one of the largest in NJ during the twentieth century.

July 25 "Retirement Spending Patterns and How It May Impact Your Financial Game Plan," - Speakers Brian Kazanchy and Bryan Smalley will touch on current trends of retirees, common mistakes made in investing, and help identify missed opportunities.



August Birthdays – John Baxter
Aug. 1 "Learn Techniquest That Will Help You Cope With Stress and Anxiety." - Speaker Valerie Spangenberg, Ph.D. is a resident of Latern Hill, was trained at Harvard, and worked at Morristown Memorial Hospital in Integrative Medicine.

Aug. 8 "General Overview of Foot and Ankle Health," - Dr. Adam Kaplan, member of the American Podiatric Medical Association, will speak about treatment of the most common foot ailments and when to seek professional help.

Aug. 15 "New Jersey Symphony Orchestra -- Special Series for Seniors," - Terri Campbell, NJ Symphony Orchestra Sales Consultant will inform the Old Guard about the 2017/2018 five concert afternoon series specifically for seniors.

Aug. 22 "To Tell or Not to Tell is Not the Question." - Michel Papka, Ph.D. of the Cognitive and Research Center of NJ, LLC, will speak to us about current thinking regarding Alzheimer's desease..

Aug. 29 "Everything That You Wanted to Know About Sunscreen, But Were Afraid to Ask." - Speaker David C. Steinberg founded his consulting firm in 1995 and has wide experience on the chemistry of cosmetics.



September Birthdays – John Baxter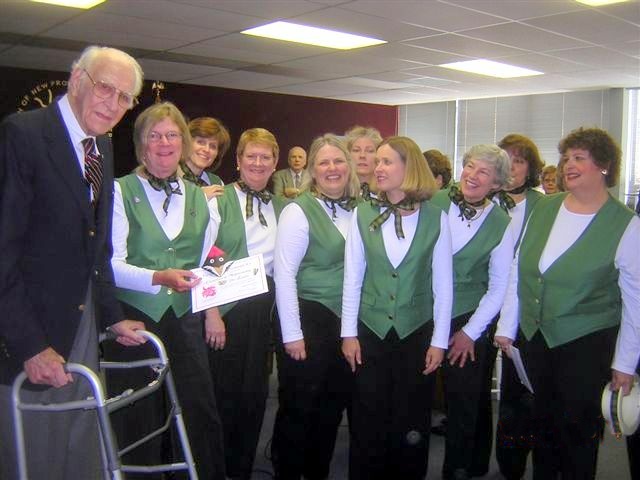 Technology User Group (TUG)  Discussions for all users at all levels in the Council Chamber, 11:45 a.m. (First and fourth Tuesdays).

July 4  No Meeting

July 25 Current issues for group discussion.

Timely Topics  Discussion in the Council Chamber with participation encouraged from all in attendance. Usually at 11:45 a.m. on the second Tuesday.

July 11  Pete Lederman will lead a discussion to see where we think Healthcare Legislation is going and how we would make it better.

Trips Scheduled (Old Guard Members and Their Guests Only)

July 13 - Tour of the magnificent Gold Coast of Long Island.

For details open the Events/Trips page or click below.

Walkers If weather is "iffy", call Doug Garno, (908) 464-2139, (908) 917-3837 (cell); or Ellwood Jacoby, (908) 654-7116; (908) 692-1481 (cell). Interested members with or without spouse/friend meet at 10:30 a.m. Walks are about one hour. Lunch is optional.

Come for the Programs. Stay for the Friends.