Dec. 5 "A preview of the coming year in the New Jersey Assembly" -  Honorable Assemblywoman Nancy Forster Munoz, Republican, 21st Assembly District, represents our district in the NJ State Assembly and has been re-named as the Minority Whip (R) for the new session.

Dec. 12 "Downsizing Your Home: - A Practical Guide" - Lucy Thompson will address the momentous decisions we face when downsizing our home. When is the right time? What is the first step? These questions and others will be addressed as we go through the process of getting ready.

Dec 19 "General Winfield Scott Hancock" - Nolan Asch, speaker and Old Guard member. The most important Union Civil War general you may never have heard of may surprise you. Nolan will trace his steps through West Point and the Mexican American and Civil Wars. Then follow him to the Wild West and ONE INCH from the White House.

                  January Birthdays - John Baxter

Jan. 2 "The Impact of Untreated Hearing Loss -- What is New with Amplification and What Does it Do" -  Leslie E. Herman, Doctor of Audiology -- Summit Hearing Aid Center will describe how untreated hearing loss impacts our physical and mental wellbeing.

Jan. 9 "Fire Safety and Burn Safety" -- Elliott Koppel, Old Guard Member will discuss emergency fire safety. Be prepared and protect yourself from fires.

Jan. 16 "Status of Exoplanet Research in the Milky Way" -- Kevin B. Alton, astronomer, will discuss this exploding field. The first exoplanet was identified in 1988 and the number is now well beyond 3000.

Jan. 23 "9/11, Katrina, Love Canal, Flight 800, Sandy and Other Disasters" -- Joseph Picciano, Homeland Security, FEMA and NJ, will provide a perspective on the lessons and impact that change how we respond, prepare, and live in a risk-filled environment.

                  February Birthdays - John Baxter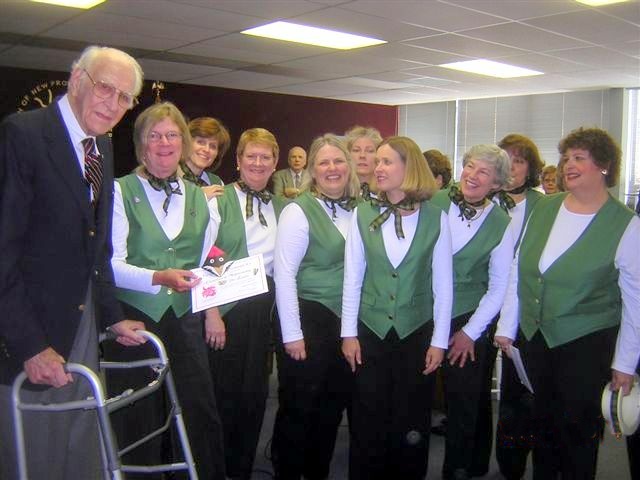 Technology User Group (TUG)  Discussions for all users at all levels in the Council Chamber, 11:45 a.m. (First and fourth Tuesdays).

November 28 - Overview of Virtual Private Networks (VPN) by Paul Tukey & Favorite Smart Phone and / or Tablet Apps.

December 5 - A discussion of PC backup strategies led by Mark Edelman who will take us through his implementation.

Timely Topics  Discussion in the Council Chamber with participation encouraged from all in attendance. Usually at 11:45 a.m. on the second Tuesday.

December 12 - John Baxter will lead a discussion on what the results of the NJ 2017 election means to us from many perspectives including financial and policy. Subject matter may change should overarching issues arise.

Trips Scheduled (Old Guard Members and Their Guests Only)

Walkers If weather is "iffy", call Doug Garno, (908) 464-2139, (908) 917-3837 (cell). Interested members with or without spouse/friend meet at 10:30 a.m. Walks are about one hour. Lunch is optional.

Come for the Programs. Stay for the Friends.