Mar. 6 "The Rest of the Story" - Richard Pierce, Historian, who spoke to us last month about the history of "Old Glory" will now touch on well-known flag events and stories from American history but introducing them with a different take.

Mar. 13 "Neutron Stars" - Old Guard Member, Phil Eisner, will discuss neutron star formation and the gravity waves and electromagnetic radiation resulting from their collisions.

Mar. 20 "Ireland and New Jersey, a Home from Home for 400 Years" -- Dermot Quinn, Professor and Director of Graduate Studies, Department of History, Seton Hall University, will talk about the history of the Irish in New Jersey.

Mar. 27 "Vocal Concert" -- The Larks, Junior League of Summit, Joanna Russell, Director, will entertain us with a reportoire of songs, including a medley of Broadway show tunes.




April Birthdays - John Baxter
April 3 "Interesting Trips in the USA from One Who Has Been There" - Phil Azzolino, President of Group Tours and Travel in Kinnelon, NJ, will discuss some of the most interesting places in the USA.

April 10 "History of the Last Working Farm in Berkeley Heights" - Ron Weinger, a recent Old Guard member, will speak about the Littell Lord Farm. Ron is a 23 year resident of Berkeley Heights and a member of its historical society.

April 17 "Charles Lindbergh - A Complicated Man and Aviation Pioneer" - Professor David Smilon, of Bergen Community College, will discuss this American icon. Lindbergh is an enigmatic character who had heavy influence on aviation. Dave will take us through Lindbergh's fascinating career.

April 24 "Sound Ideas on Money Management" Karin Price Mueller is a NJ based writer who specializes in personal finance and consumer issues. Karin founded NJ Moneyline which offers its online audience objective and free money advice. Bring your financial questions. She will attempt to answer them.




May Birthdays - John Baxter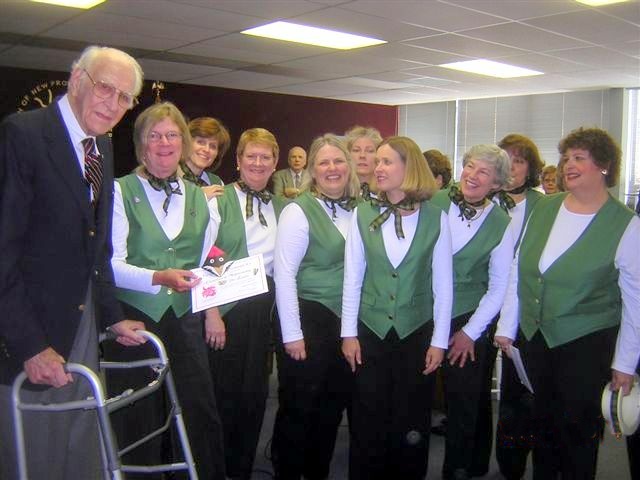 Technology User Group (TUG)  Discussions for all users at all levels in the front of our meeting room, 11:45 a.m. (First and fourth Tuesdays of the month).

March 6 - Monthly issues session and plan for 2018 Topics.

March 27 - Miguel Velez will demonstrate how his tennis group of 25 players uses a spreadsheet from Google Docs to schedule players three weeks ahead.

Timely Topics  Discussion in the front of our meeting room with participation encouraged from all in attendance. Usually at 11:45 a.m. on the second Tuesday.

March 13 - Gun Control in the wake of the Parkland School Shooting - John Luckstone will lead off and then you can tell us what you think should be done and why. 

Subject matter may change should overarching issues arise.

Trips Scheduled (Old Guard Members and Their Guests Only)

Walkers The Walkers Group has been relaunched in a new format (which is still evolving).  For now we are walking twice a week, Mondays and Thursdays, at 8:00 AM at Briant Park in Summit, with "mall walking" at the Short Hills Mall as a backup for bad weather.  If Interested, please drop a note to paul.tukey@gmail.com to weigh in and say what formulation might work well for you.

Come for the Programs. Stay for the Friends.