Mar. 7 "Genealogy 101- Connections" – Pat Bennett,Coordinator, New Jersey's Annual Adoption Conference. Pat Bennett's grandparents left Europe at the turn of the 20th century to pursue the American dream.  Through hard work, a few memories of names and places, and a lot of luck, she uncovered the stories of those who emigrated and those who were left behind.

Mar. 14 MEETING CANCELLED DUE TO SNOW STORM! "Deserted Village of Feltsville - It's Not So Deserted Anymore" - Daniel Bernier, Director of Environmental Services for the Union Co. Park System and resident caretaker, will talk about the Visitors Center and public programs that now attract 100,000 visitors annually.

Mar. 21 "Assisi Performing Arts" - Gregory Scime, Artistic Director, founded the festival in Assisi 16 years ago. Over a two week period, each summer, the festival brings together students and accomplished musicians plus guests to study and perform at various historic venues around the city.

Mar. 28 "The Role of Polish Women in the Armed Forces in WWII" - Eva Jedruch, Author, will discuss the situation around the 1939 invasion by the USSR into southeastern Poland. By 1941, after Hitler invaded the USSR, many young women were drafted into the Polish Auxiliary Women's Forces (PSX), one being Eva Jedruch's mother.



April Birthdays – John Baxter
First two April speakers have switched dates!

April 4 "Defense of Democracy:  Key Issues for Reform" – James E. Johnson recently retired as partner from the law firm Debevoise and Plimpton. His presentation will focus on the issues of campaign finance reform and voter access.

April 11 "The History of Diners in New Jersey" – Michael Gabriele, author and journalist, will discuss his research into the local manufacture of diner cars, the pervasiveness of diner culture in this state, and the satisfaction of long-time customers in this "two over easy" business.

April 18 "Veterans:  Now and Then" – Joanne Rajoppi, Union County Clerk, will discuss her recent book on veteran benefits affecting women after the Civil War, as well as those veteran services her office currently provides. 

April 25 "Presidential Golf:  The Power Game" – Kim Gianetti, Manager of Education and Outreach, USGA Golf Museum, Far Hills, NJ, will highlight the U.S. presidents who, since 1909, have played and enjoyed the game of golf as a leisure activity. 



May Birthdays – John Baxter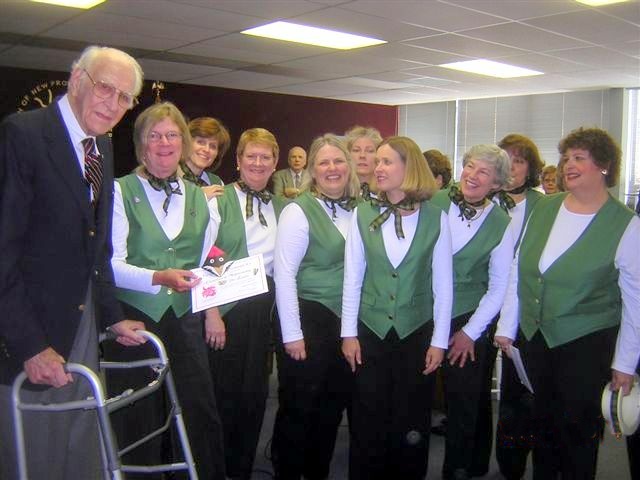 Technology User Group (TUG)  Discussions for all users at all levels in the Council Chamber, 11:45 a.m. (First and fourth Tuesdays).

Mar. 28 Current issues for group discussion.

April 4 Mark Edelman will demo Feedly, an app for gathering updates and articles on topics of interest to you, from your favorie websites, in an efficient manner.

Timely Topics  Discussion in the Council Chamber with participation encouraged from all in attendance. Usually at 11:45 a.m. on the second Tuesday.

Mar. 21 John Baxter and Dan Kaplan will lead a discussion of "Money and Politics."

Trips Scheduled (Old Guard Members and Their Guests Only)

May 18 - Tour of the American Wing of the Metropolitan Museum of Art, followed by a family-style repast. For details open the Events/Trips page or click below.

Walkers If weather is "iffy", call Doug Garno, (908) 464-2139, (908) 917-3837 (cell); or Ellwood Jacoby, (908) 654-7116; (908) 692-1481 (cell). Interested members with or without spouse/friend meet at 10:30 a.m. Walks are about one hour. Lunch is optional.

Walks in March to be announced.

Come for the Programs. Stay for the Friends.