First two April speakers switched dates! Note the correct dates below.

April 4 "Defense of Democracy:  Key Issues for Reform" – James E. Johnson recently retired as partner from the law firm Debevoise and Plimpton. His presentation will focus on the issues of campaign finance reform and voter access.

April 11 "The History of Diners in New Jersey" – Michael Gabriele, author and journalist, will discuss his research into the local manufacture of diner cars, the pervasiveness of diner culture in this state, and the satisfaction of long-time customers in this "two over easy" business.

April 18 "Veterans:  Now and Then" – Joanne Rajoppi, Union County Clerk, will discuss her recent book on veteran benefits affecting women after the Civil War, as well as those veteran services her office currently provides. 

April 25 "Presidential Golf:  The Power Game" – Kim Gianetti, Manager of Education and Outreach, USGA Golf Museum, Far Hills, NJ, will highlight the U.S. presidents who, since 1909, have played and enjoyed the game of golf as a leisure activity. 



May Birthdays – John Baxter
May 2 "The Long View: Technological Opportunities and Threats in Our Future" – Mitchell D. Erickson, Ph.D., Old Guard member, surveys technology of the future.

May 9 "Getting the Most from Your Wine Bottle" – John Cilli will answer your questions and conduct a wine tasting session.

May 16 "The Winter of Tears: The 1779 Sullivan/Clinton Expedition against the Iroquois Confederation" – John Orzel, Esq. returns to us with a dark tale of the Revolutionary War. 

May 23 "Logical Thinking: The Principles and Ptifalls" – Dr. Gerald Williams will guide us through the most common fallacies that may thwart our reaching logical answers in decision making.

May 30 "The Summit Playhouse: Born in 1918 and Still Lighting up the Local Theater Sky" -- Playhouse luminaries Ann Lowe, Pam Heller and Wendy Roome, will share highlights of the Association's history.



June Birthdays – John Baxter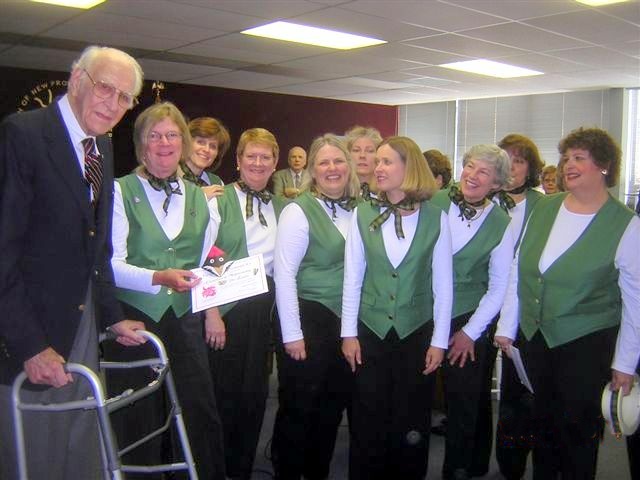 Technology User Group (TUG)  Discussions for all users at all levels in the Council Chamber, 11:45 a.m. (First and fourth Tuesdays).

April 25 Current issues for group discussion.

May 2   A guest, Dr. Susan Woods, will lead a discussion on "Hearing Health and Hearing Aids."

Timely Topics  Discussion in the Council Chamber with participation encouraged from all in attendance. Usually at 11:45 a.m. on the second Tuesday.

April 11 Is our society going to "hell?" Mitch Erikson will lead a discussion on our challenges as individuals and as a community.

Trips Scheduled (Old Guard Members and Their Guests Only)

May 18 - Tour of the American Wing of the Metropolitan Museum of Art, followed by a family-style repast. For details open the Events/Trips page or click below.

Walkers If weather is "iffy", call Doug Garno, (908) 464-2139, (908) 917-3837 (cell); or Ellwood Jacoby, (908) 654-7116; (908) 692-1481 (cell). Interested members with or without spouse/friend meet at 10:30 a.m. Walks are about one hour. Lunch is optional.

Walks in April to be announced.

Come for the Programs. Stay for the Friends.